Recently after the new privacy policy update of WhatsApp after February 8, they are facing a lot of backlash from the users regarding their privacy policy and users started to Boycott WhatsApp. Now WhatsApp says users privacy won't be affected if you don't use these two features.
In the FAQ section, WhatsApp said that the policy update does not affect the privacy of your messages with friends or family in any way rather the update includes changes related to messaging a business on WhatsApp, which is optional.
Also Facebook-owned-whatsapp also clarified some of the doubts of the users to make it more clear and transparent.
Also See: How Google Actually Cares About Your Privacy Unlike Apple?
WhatsApp says users privacy won't be affected if you don't use these two features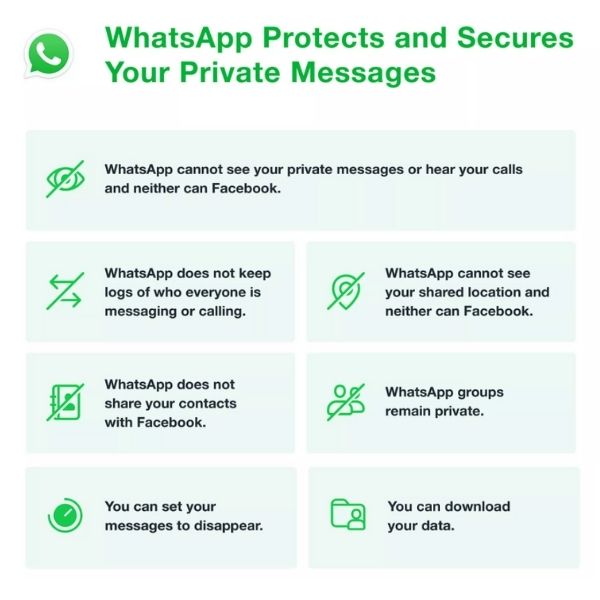 WhatsApp and Facebook can't see your private messages or hear your calls
They also said that neither Facebook nor WhatsApp can read messages and hear calls with your family, company, friends and co-workers.
This is because of the end-to-end-encryption used by WhatsApp that will never weaken your security.
We don't keep logs of who everyone is messaging or calling:
The firm also said that they do not keep the logs of messages or calls because they believe that will risk the privacy of 2 billion users.
We can't see your shared location and neither can Facebook:
WhatsApp has also said that neither WhatsApp nor Facebook can access your location because it is protected by end-to-end-encryption.
What WhatsApp will share to Facebook?
WhatsApp said that they are making WhatsApp easier and better to communicate with businesses of all sizes on WhatsApp. They said that will share the data that how you interact with the businesses.
WhatsApp said that soon should be able to use Facebook shops and display their products on WhatsApp.