Smartphones and tablets are called the all in one package and are ready to replace PC in near future. Smartphones can do nearly anything, from controlling your TV or your Tesla. You can also edit audio files and apply some cool effects on your newly composed songs recorded via your smartphone. These applications will support every small audiophile eager to become a star. So what are these applications? Well, we will tell you the Top 5 Audio Editors for Android.
Here is a complete list of 5 best audio editors for android
1. Audio Evolution Mobile
According to the company, This application is the one-stop solution to all your problem. From recording song ideas to full-fledged mobile productions, Audio Evolution Mobile sets the quality for music creation, mixing, and editing on Android. This is the reason it stands as number 1 of the Top 5 Audio Editors for Android.
The Application costs INR 799 which will provide you 100's of function which can be used to edit your audio file. A Trial Version of the same application is also available. You can try the application before spending your money.
The Trial Version has the following Limitations
Mixdown has a maximum limit of 45 seconds.
The Playback and recording stop after 2 minutes (45 seconds for USB audio).
The app will stop after 20 minutes.
Loading of projects is limited to 3 tracks.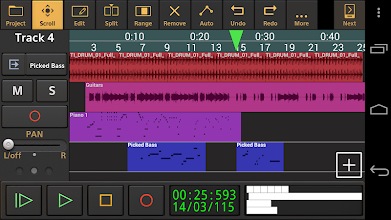 2. Voice PRO – HQ Audio Editor
This application was once in the list of Top 20 Featured "Paid" Applications on the Google Play Store. Using this application you can perform multiple functions to play around with your records like edit, cut, adjust, eliminate disturbances, noises, and insert background music. It costs around INR 805 on the play Store.
This Application will not work on a rooted device.
The App also allows in-app plugins which will help you a lot with different features. This Audio Editor is one of the Best Audio Editor for Android, Hence it is on our list of Top 5 Audio Editors for Android.
Read Also : Top 5 Upcoming Smartphones in October 2020
Call recording is also available in this Application which is the butter on bread. Voice PRO also acts as a Dictaphone, Virtual Recorder, Sound Recorder, and a Speech Recorder.
3. WavePad Master's Edition
WavePad works with audio waveforms to form selections for quick editing, like inserting sound from other files, or apply sound effects just like the high pass filter to clarify audio quality. The Application costs around INR 1300 on Playstore. It also has a Trial Version Available on the Google Play Store.
Following are the features of the Free Version
Supports auto-trim editing and voice-activated recording
Effects include amplifying, normalize, echo, and more
Edit multiple audio file formats
Supports a number of file formats including wave and AIFF
Editing capabilities include cut, copy, paste, insert, trim and more
4. Music Editor
Music Editor is a very useful Audio Editor, MP3 Cutter, Ringtone Maker, Song Editor. With Music Editor you can perform various functions i.e. ut out a certain part of the music as a ringtone, alarm tone, and notification tone.
Moreover, It is available for free on the Play Store thus makes a perfect option in the Top 5 Audio Editors for Android.
It has numerous number of features, It is free and worth a try.
5. FL Studio Mobile
FL Studio Mobile may be a great application for audio creation.
With this neat application, you'll create music completely from scratch. it's tons of the essential audio editing features also, but additionally thereto, there's tons of the way that you simply can edit and manipulate your music
There are effects for the chorus, auto ducker, filters, delays, reverb, then far more.
Moreover, This Application costs INR 300 only and is one of the cheapest applications on the list of Top 5 Audio Editors for Android.