The second half of the season has been affected by coronavirus but now is back to production
At the end of Season 4, Lucifer realized Chloe was his first love, not Eve, and decides to return to hell to stop the demons from escaping the Earth. Michael's arrival in Season 5 temporarily put their relationship on pause. Fans are totally keen to have their hands on the second half of Lucifer Season 5 to find out exactly what happens next.
According to reports, the cast and crew reunited in September with filming on season 5 which is now officially complete, but still a lot of efforts to make until the episodes are ready to stream.
Team Lucifer is currently at work on editing the upcoming chapters and there's likely to have additional VFX work as well. This is what showrunner Joe Henderson has recently emphasized to the excited fans on Twitter, suggesting it could be a while yet before part two of Season five drops on Netflix.
Meanwhile, Team Lucifer has already started filming for Lucifer's sixth and final season.
When is Lucifer Season 5, part 2 released on Netflix?
While there is no confirmed release date for Lucifer Season 5 part 2 just now, but the show has completely wrapped filming on its fifth outing. The cast and crew had resumed production on Thursday 24th September, with the priority to finish the season 5 finale, before moving on to the upcoming sixth and the final season.
Tom Ellis had previously told Collider that the season five part two scene should take only "five or six days" to finish at which point it needs to edit together and added to the footage already shot.
Co-showrunner Joe Henderson told fans on Twitter that the next batch of episodes "definitely" won't be released in December.
Lucifer season 5 part 2 expected to release in February 2021.
And as a plus point, with its frequently romantic storylines Lucifer would be a perfect series to drop around Valentine's day especially as Lucifer and Decker are seemingly taking their relationship to a new height.
What will happen in Lucifer Season 5 part 2?
One of the most exciting episodes in Season 5 part 2 is sure to be the musical episode titled Bloody Celestial Karaoke Jam -which has long ago been teased by the show's producers and cast members.
The setting is an American College sports field, with a team of football players, cheerleaders, and brass band musicians getting in on the action with their own choreographers. It's a fun clip but the episode also looks set the pack an emotional punch, co-star Lauren German has teased a moment that she found particularly moving.
"Lucifer is in a difficult place and Tom goes into the story and I was in my trailer just crying at how to beautiful the moment is and just knowing the moment in the story it brought tears to my eye", She told Entertainment Tonight.
There is also a small matter of God's arrival on Earth to take care of with Dennis Haysbert making his debut in the midseason finale, ending things on a massive cliffhanger.
How will Coronavirus affect Lucifer?
The team behind Lucifer will have to adapt some of its working practices, to operate in a post COVID world, according to series star Tom Ellis. After speaking to DA MAN Magazine about returning to work on the show, he said, "It's going to be challenging to say the least. We have had to find a way to stay safe whilst remaining productive.
"Film sets are usually a hive of activity with people constantly making adjustments and last-minute tweaks in small confined spaces."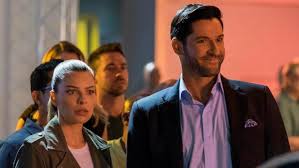 "Now, with the restrictions, everyone has to take their turn to do their job, so it's going to have a big knock-on effect on how much we can physically shoot in a day"
With most of Season 5 part 2 already filmed production changed may not be too noticeable in the next batch of episodes but one has to wonder whether season six could see fewer scenes featuring crowds and more outdoor locations.