Are you also worried due to slow internet speed? Is your internet speed is also very slow and Do you wanna increase your internet speed? If you agree with all the above statements then not worry we are here with some solutions and tips to increase internet speed in 2021.
It's very difficult to use the internet with the slow speed we can't enjoy any web series or movies they are always buffering, we can't scroll Instagram to watch funny memes. And we all have experienced the slow internet speed problem.
I will show you a few ways to increase internet speed that might work in your case. Hopefully, this article will be helpful for you.
Also see: How to Increase Vodafone 4G Internet Speed in 2020?
How to test internet speed
The very first thing that we need to do is that check the internet speed that we are getting. You can check your internet speed by going to Speed Test. This will let you know that you are getting lower internet speed or not. Here are my internet speed results.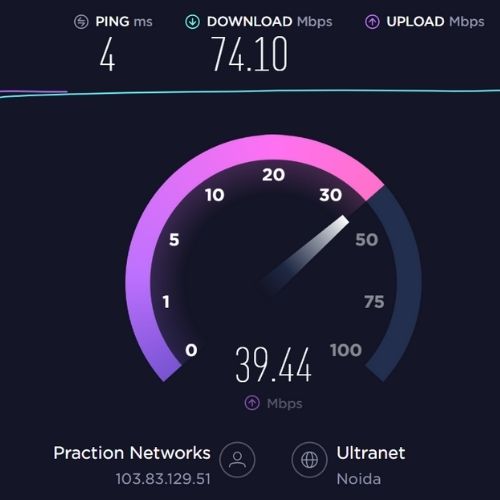 How to increase internet speed in 2021
Before starting let's read out some interesting part, let's first read the difference between megabits and megabytes you might say that there is no difference between these two but there's a lot of difference between megabits and megabytes.
MBps = megabytes
Mbps = megabites
If you are getting 74 Mbps internet speed and to find out how many megabytes then just divide it by 8.
And then check by downloading any file that you are able to attain that speed or not.
An let's see on how to increase internet speed
Scan you Laptop/PC for viruses
The first thing that you need to make sure that your computer is virus-free or not. If there is any kind of virus on your computer then it can use the resources of your computer to make it slower. Scan your PC/ Laptop with an antivirus.
Reset your router
Another thing that you can do is reset your router manually and then try to refresh your internet connection, you can reset it every day if you are getting serious internet connection issues. Keeping in mind that this will not immediately boost your internet but will help you.
Use Ethernet
Nowadays everyone is using WiFi which is wireless but one of the known facts is that wire is the best, wireless is not always fast as they. You can use an ethernet cable and connect it with your device and make your internet speed faster than before. You can connect it with a PC/ Laptop.
Block Ads
You can block ads in your browser with some kind of ad blockers there are plenty of ad blockers available in the market or you can use or you can use Brave browser or any privacy-focused browser. This can be the reason for slow internet speed.
Talk to your ISP
If none of the tricks works for you then the last thing that you have to talk about with your ISP that your internet speed is slow how to increase internet speed they will provide the solution for the problem, if you are paying money then you should get the best option.