Everyone needs the right tool to get started and if you want to be professional in the field of Cyber Security or Ethical Hacking, these tools are a must to try on. The right toolkit is very important in ethical hacking as it will help to perform cyber investigations, digital forensics, and penetration testing more efficiently and quickly, and also anonymously. This post is all about the top 5 Linux distros for hacking
For a person in the field of ethical hacking, an OS that is more security focussed and is the best asset for discovering and testing vulnerabilities in systems and networks. For that, we need the best Linux distros for hacking and penetration testing.
Linux OS is one of the best and most-used open-source operating systems and someone as a beginner is able to get into cybersecurity and penetration testing very easily and all the features are free.
Here is the list of top 5 Linux distros for hacking recommended by top security researchers.
1. Kali Linux
Kali Linux is the most popular Linux distribution for Ethical Hacking. It is specially designed for digital forensics and penetration testing.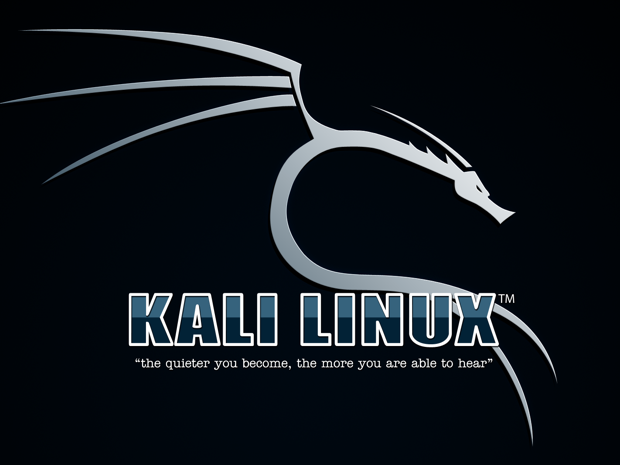 Hardware requirements:
Minimum 20GB disk space for the install
RAM of 1386 and amd64 architectures
CD-DVD Drive/USB boot support/Virtual Box
Some most used tools:
Nmap
Nikto
Metasploit Framework
2. BlackBox
BlackBox is an Ubuntu-based OS with a specialization in penetration testing and accessing your computer's security. It is one of the best in the hacking field and a predecessor to Kali Linux.
Its complete XFCE desktop environment is designed for very low memory usage. The repository is hosted on Launchpad and all of its applications are regularly updated to provide its users the most stable version of the OS.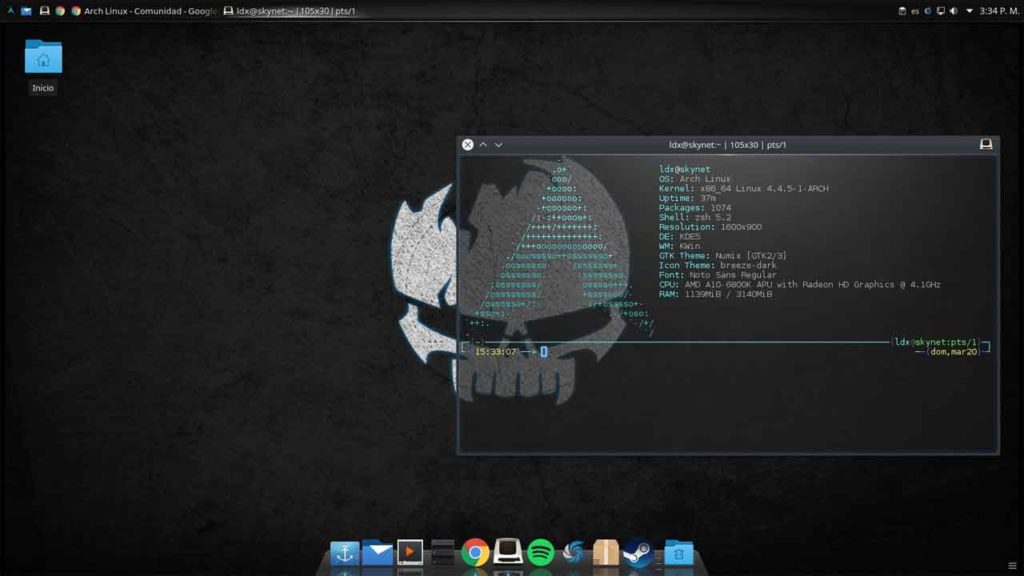 Blackbox Hardware Requirements:
32 bit or 64-bit processor
512MB of RAM
4.4GB of disk space
800*600 graphic card
DVD-ROM drive/USB port
Some used tools are:
Wireshark
Tcpdump
Sqlmap
3. Parrot Security OSB
In the list of top 5 Linux distros for hacking it will be a very difficult situation for me which one to choose. What about you?
Parrot Security OS is another Os based on Debian, and created and maintained by FrozenBox. It's lightweight and is excellent for pen testing, forensics, cryptography tasks, and even software development. It is mainly a good choice who wants to surf the internet while maintaining privacy. Like other communities, it offers strong community support on different forums.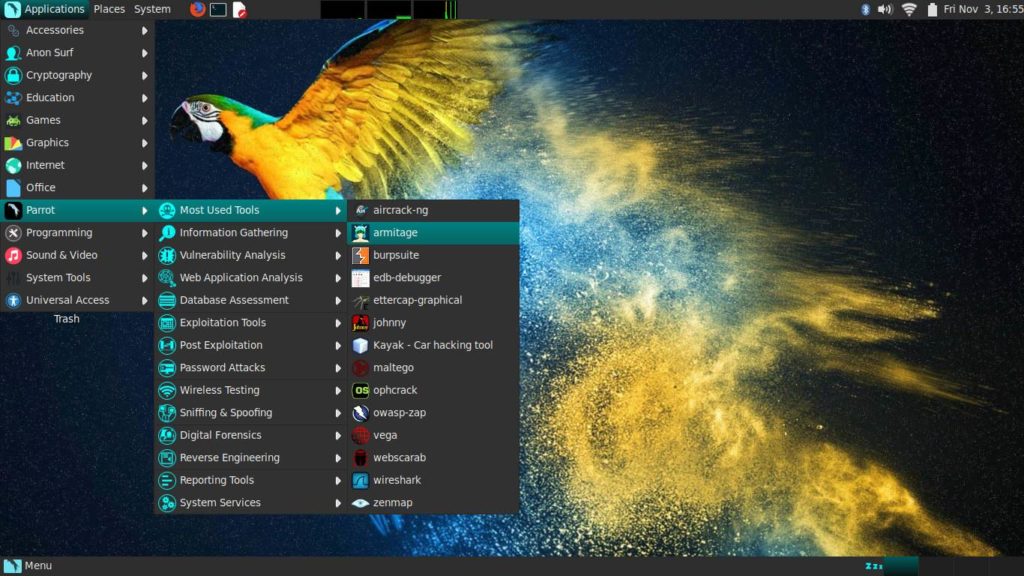 Hardware Requirements:
Minimum of 30GB RAM
1GHZ dual-core CPU
It can boot in legacy and UEFI modes
At least 16GB of disk space for the install
Some most used tools are:
TOR
Aircrack-ng
OpenVAS
4. BlackArch
BlackArch is used for penetration testing and security research. This Arch is built on Arch Linux and BlackArch components can be installed on top of it.
If Kali Linux has 600+ tools in Kali Linux sounded impressive, while BlackArch has more than a 2000-tool repository and is definitely in a League of its Own. The repository is ever-growing and thoroughly checked upon and tested before its capabilities and made download over GitHub.
In contrast to the other entries on the list, BlackArch does not provide a desktop environment but a Window Manager. You can download many penetration testing separately or in a category such as crackers, debuggers, anti*-forensics, keyloggers, proxy, backdoors, sniffers, malware, fuzzes, disassemblers, wireless, and others.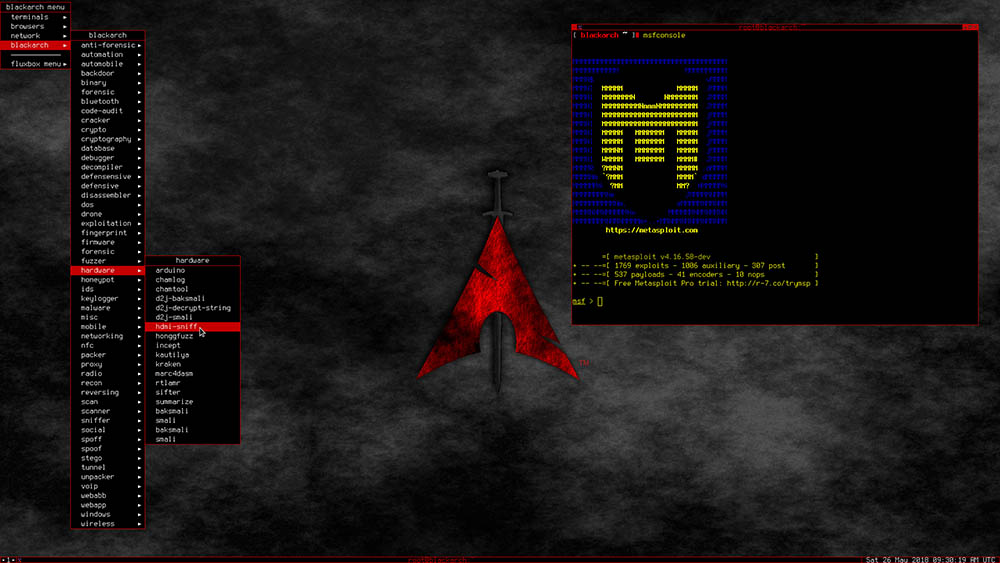 Hardware requirements:
64- bit processor
1GB free space(but 20GB for basic Usage) and a USB drive with minimum 2GB storage
Some most used tools are:
Cyberscan
Zmap
Amass
5. DEFT Linux
DEFT stands for Digital Evidence and Forensic Toolkit. Linux DEFT built for running live systems without corrupting or altering the devices connected to the computer where booting occurs. Its widely used among penetration testers, ethical hackers, security auditors and universities, law enforcement agencies, and the military.
Hardware requirements:
X86 CPU 200Mhz processor
128MB RAM
Some most used tools are:
Autopsy
Recoll
RegRipper
Conclusion:
That's it these were the top 5 Linux distros for hacking. As seen so far, there are many different Linux Distros available, each with different tools, features, and capabilities, and when it comes to ethical hacking, forensic, penetration testing, we have done or best covering all the possible research for each distro, to make your task easy with the security research and testing.
Moreover, Kali Linux is one of our favorite ones with great features, easy installation, regularly updated repositories, and a wide range of valuable hacking tools. So carry on with your OS and start hacking SAFELY. Do tell us in the comment section which is your favorite Distro for hacking and penetration testing.
Happy hacking! :)